Company profile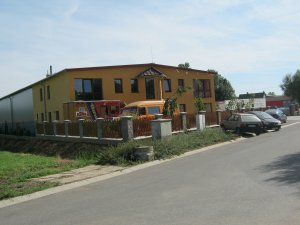 Introduction
 
ADOS Company was established in 1993. During the time of its operation ADOS has not only extended its sphere of business but also its field of activity. We co-operate with our business partners applying our experience in Russia, Italy, Spain and Canada.

Our Business
 
· Domestic Waste Water Treatment Plants type DC (2 – 25 PE)
· Waste Water Treatment Plants for hotels, small towns, type BC (50 – 500 PE)
· Waste Water Treatment Plants for municipalities and towns type CC, CT (500 – 25 000 PE)
· Reconstruction of existing Waste Water Treatment Plants (up to 25 000 PE)
· Industrial Waste Water Treatment Plants (e.g. wastewater from slaughterhouses, dairy, breweries, ...)
· Other facilities (separators of greases, separators of liquid petroleum hydrocarbon separators, plastic tanks rust-resistant steel tanks, sludge facilities, ...)

Wastewater Treatment Plants for Biological Water Treatment
 
Final sedimentation tank technology USBF (Upflow Sludge Blanket Filtration) fitted in a compact reactor (denitrification, activation and final sedimentation zones – separation USBF). Design and material unification of these treatment plants makes a non-negligible feature which enables to make the plant operation more economic and enhances the plant erection.
Wastewater Treatment Plants manufactured by ADOS Co. can be applied for treatment of municipal Waste Water, industrial Waste Water (e.g. Waste Water of food-stuff industry, agriculture etc.
First of all, ADOS Co. wants to present its production series of domestic Waste Water Treatment Plants – typeDC for family houses, packed Waste Water Treatment Plants – Type BC for large family houses, hotels, restaurants and small settlements and wastewater treatment plants – type CC, CT for settlements and small towns. In addition the Company wants to present systems for reconstruction or enhanced performance of existing Waste Water Treatment Plants, de-centralised system of Waste Water Treatment Plants and plastic and/or stainless steel products: liquid petroleum hydrocarbon separator, separator grease, sludge pre-thickeners – PZK, automatic sludge thickeners – AZK, ………

Advantages of Wastewater Treatment Plants Manufactured by ADOS
 
· High quality of effluent
· Low cost of acquisition
· Low operating cost
· Design flexibility
· Complete elimination of odours
· Reliability of operation
· Hydraulic flexibility